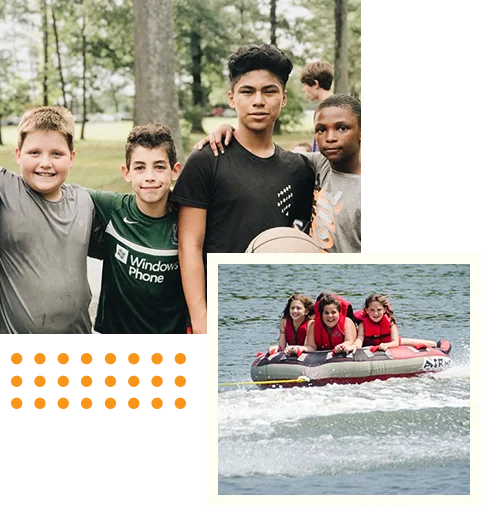 Residential Summer Camp & Retreat Center
Camp Manitowa offers a private, traditional sleep-away summer camp along with fall & spring group retreats, and individual cabin rentals. Our beautiful Rend Lake property is available to host any size group where we run a variety of outdoor activities, have unique accommodations, and serve delicious food. Camp Manitow offers a great way to GET AWAY in beautiful Southern Illinois. Please fill out our "contact us" form for more details.
SUMMER CAMP 2024
Manitowa Nation is counting down the days until our campers arrive and we again start making memories to last a lifetime.  Our small, intimate 40-acre property is ideal for helping kids feel safe and comfortable. We'll have about 100 campers each session which allows kids to make friends quickly and become an important person in our overall camp family. We'd love for your family to be a part of the Camp Manitowa family next summer! 
Hover over the pictures below to see our summer camp dates and other upcoming events. 
Get Outdoors in Southern Illinois
We believe everyone can use some time away these days. Camp Manitowa offers families, groups, and individuals an opportunity to get out of the house, get out of the city, and get into nature.
Our midwest camp property in Benton Illinois is open for a variety camping opportunities. We limit the number of groups in camp at one time to maintain a feeling of exclusion. We provide the greatest opportunity for everyone to stay safe, have fun, and we adhere to state and industry guidelines. We offer yurts and heated cabins throughout the year with access to our programs and activities along with all that Rend Lake has to offer. 
Contact us to book your group's retreat or rent our cabins for you and your family through Airbnb